Action Comics
Info:

Volume: 2
Publisher: DC Comics
Series Year: 2011
Published Year: 2012
Artist: Rags Morales, Cafu, Brad Walker
Inker: Rick Bryant, Bob Mcleod, Cafu, Andrew Hennessy
Colorist: Brad, Gabe Eltaeb
Letterer: Steve Wands
Genre: SuperHero, Crime, genre,
Contributor(s): Alex Inskeep, Andrew Tooze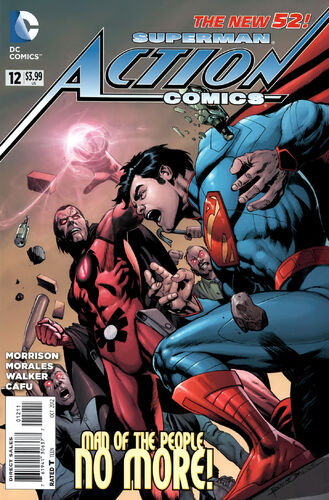 How does this comic relate to a sacred text?
The Name of Text: The Bible
The relation: other

Main Character: Superman
Entry: p. 15: The "Blake Farm Ghost"—an advance human mutant or neo-sapien, describes his childhood in Smallville, including being driven from his home following his mother's death. His father shakes a Bible in his face.