Batman: War Crimes
Info:

Volume: 1
Publisher: DC Comics
Series Year: 2005
Published Year: 2006
Artist: Giuseppe Camuncoli, Pete Woods, Eddy Barros, Ron Randall, Thomas Derenick
Inker: Sandra Hope, Jay Leisten, Ron Randalll, Ray Snyder, Pete Woods
Colorist: Jason Wright, Lee Loughridge, Gregory Wright, Brad Anderson
Letterer: Nick J. Papolitano, Rob Leigh, Phil Balsman, Pat Broussea, Jared K. Fletcher
Genre: SuperHero, Crime, genre,
Contributor(s): Alex Inskeep, Andrew Tooze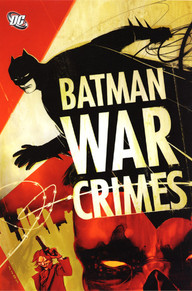 How does this comic relate to a sacred text?
The Name of Text: The Bible, Hebrew Bible, New Testament, Gospels, 2 Samual 1:9, Matthew 5:8, Isaiah 40:3, Matthew 3:3, Mark 1:3, Luke 3:4, John 1:23
The relation: Scripture was quoted in comic

Main Character: Batman
Entry: p. 10: Black Mask shows off his collection of masks and laments the Joker's MIA status. "...How the mighty have fallen." p. 33: Batman has words with one of Black Mask's associates. "Eye for an eye." p. 71: Aaron Black denounces Batman "The lone angry voice in the wilderness.."
External Links:
https://www.biblegateway.com/quicksearch/?quicksearch=voice+in+the+wilderness&version=NIV
https://www.biblegateway.com/quicksearch/?quicksearch=eye+for+an+eye&version=NIV