Ultimate Fantastic Four
Info:

Volume: 0
Publisher: Marvel
Series Year: 2004
Published Year: 2007
Artist: Scott Kolins
Colorist: Wil Quitana
Genre: SuperHero, Crime, genre,
Contributor(s): Alex Inskeep, Andrew Tooze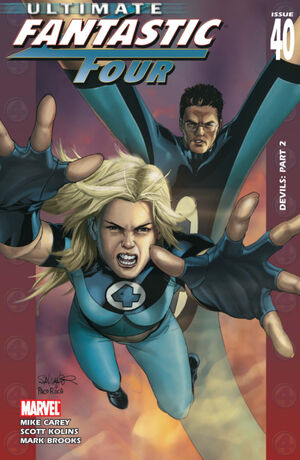 How does this comic relate to a sacred text?
The Name of Text: The Bible, New Testament, Bulgate
The relation: Character reflects a person/deity from sacred text

Main Character: Fantastic Four: Mister Fantastic (Reed Richards) Invisible Woman (Susan Storm) Human Torch (Johnny Storm) Thing (Ben Grimm)
Entry: 40-21: After being sent back in time, the Thing bursts in on El Diablo. El Diablo says "Ecce homo"
External Links:
https://marvel.fandom.com/wiki/Ultimate_Fantastic_Four_Vol_1_1